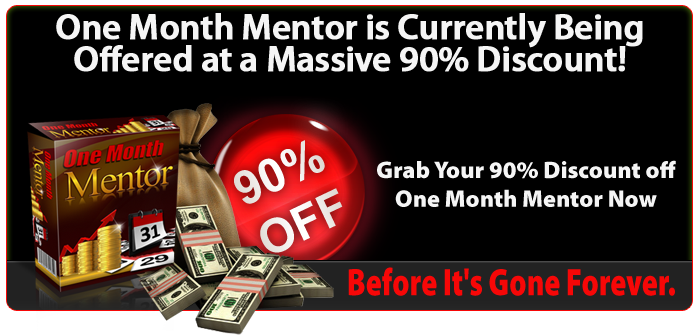 This is a Strictly Limited VERY SPECIAL Offer
If You Can See An 'Add to Cart' Button Below, Then You're In Luck!


Secure Registration Page!
| | |
| --- | --- |
| | Yes John! I can't wait to be your next success story and I'm ready to be personally taught over the next 31 days how to successfully build my online business so that I can finally start making money online. |
| | I'll be taught the exact same techniques that have been proven effective for you over the years in an easy to follow step-by-step manner. |
| | I will have full access to your staff and you personally for the length of the course and can contact you anytime I like for advice. I can even phone you directly if needed. |
| | I know that this 31 day mentoring program is 100% legitimate, 100% legal, and 100% what I need right now. |
| | You've made it a very easy decision with your 100% iron-clad money back guarantee that allows me to complete the whole course risk free. If after completing the whole course I am not 100% delighted with the training I have received I can request a full refund. |
| | On that basis I'm ready to start right now, so I'm clicking the secure order button below. |
Invest in One Month Mentor Now For:
$297
Wait! Act now and you can receive One Month Mentor for
Only $27
This offer is not availabe anywhere else and will be removed without notice.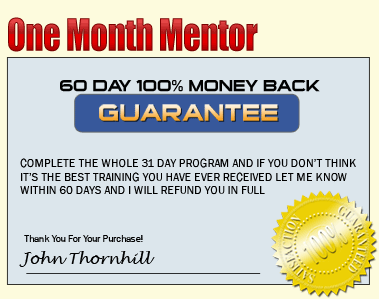 Need help ordering, got a question?
www.onemonthmentor.com/support
Email: support@onemonthmentor.com
Telephone John: +44 191 516 0993
Secure payments are made through PayPal.
As soon as you have purchased I will send you your
course details instantly, even if it is 3am!



Click the 'Add To Cart' button above now and I look forward to hearing YOUR success story in 31 days time.
Remember! I have spent years and who knows how much money learning how to do things correctly. For one low price, you'll get to benefit from ALL my experience.
Just think about it this way, for just one low price you can finally be in a position to start making real money online in 31 days time.
Invest in One Month Mentor now and let me reveal to you some of my most closely guarded profitable secrets so that you can achieve the success you deserve!
To your success

PS. If you've tried to make money before and failed then it isn't your fault. Let me teach you everything I know about making money online so that you can avoid the pitfalls that others have to endure!

PPS. Remember, this isn't your usual fluff filled eBook. This is a complete step by step 31 day mentoring program that will take you by the hand and guide you to online income! Don't hesitate and invest NOW and take your first steps towards your profitable new online business!
Earnings Disclaimer   Terms & Conditions   Privacy Policy   Refund & Delivery Policy   AntiSpam Policy